Just a few scant years ago (as of this posting) Klarus was a new player in the flashlight world. Since then they've become a major player! Recently I reviewed the XT11S. But now it's time for the Klarus G20 to step in to the spotlight!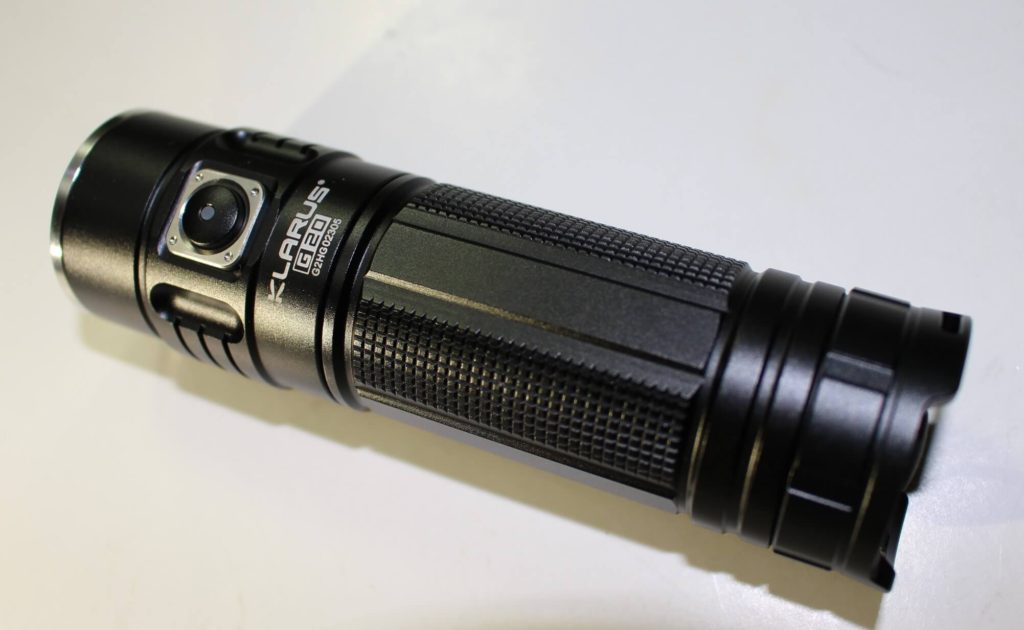 Compact Little Package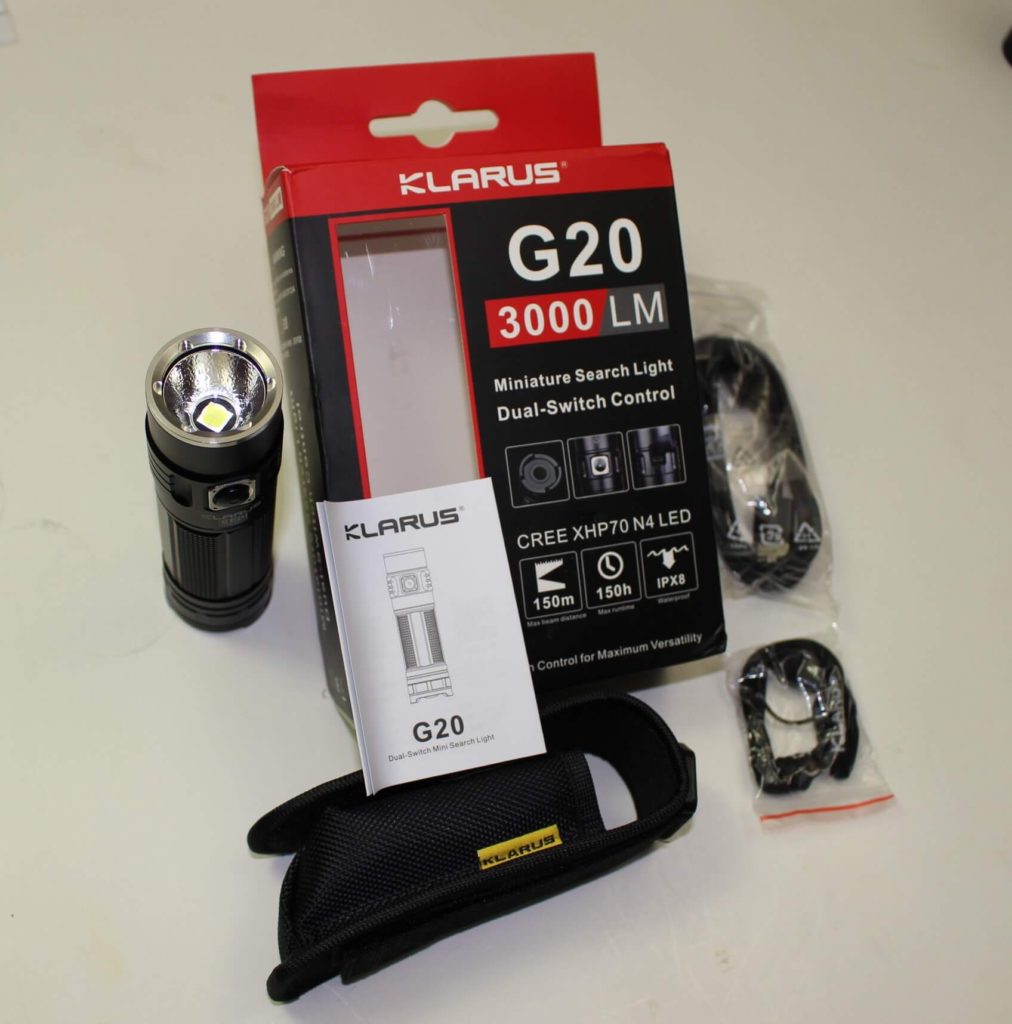 As you can see, the generous package includes some very nice accessories.
User manual
Nylon belt sheath
5000mAh 26650 lithium battery
Micro USB charging cable
Adjustable lanyard
1 spare o-ring
So, What's it Got?
Well, it's made from aerospace aluminum alloy, with TypeIII anodizing, which of course makes it pretty tough. It has reverse polarity protection, in case someone inserts the battery in backwards. The lens is hardened mineral glass, which reduces scratches. It includes a micro-USB port for "on-the go" charging. It also has an ITS temperature control system which monitors itself against excessive build-up. It will also alert you to the approximate battery voltage by way of the illuminated power switch. Mode memory remembers the last mode used…but only when using the side switch (see below).
The LED and Other Good Stuff
The LED is a Cree "next generation" XHP-70 N4. This, combined with a shallow, orange peel reflector, produces a very wide, white, flood-like beam. It's not built for throw. The beam distance is measured at 150 meters, which is about half the distance of most XM-L based flashlights.
As noted in the illustration, your G20 is capable of 3000 lumens on turbo mode!
Low is at 15, medium at 160 and high at 650. I'm not exactly sure why they give a 45 minute runtime on turbo, because in reality, 3000 lumens is only available in short (or timed) intervals. More on that coming up. As usual, there's also strobe and SOS.
The battery (which they include) is a 3.7v 26650 (5000mAh) lithium rechargeable. Since the working voltage only goes to 5, it won't accept any double-combination of batteries. It also says it won't accept an 18650 battery. Why? I'm not sure. First of all they don't include a spacer to place an 18650 into…since it would just be too thin for the tube. And secondly, seeing that 18650's are of lower capacity, you just wouldn't get very good runtime out of one.
You can see the length, at just under 5″, and when I weighed it with the battery installed, it was 219 grams. For impact resistance it's a bit less than other lights, at one meter. Waterproof to IPX-8 is pretty standard.
With the Klarus G20 Set to Go, Let's Turn it On! 
For starters, it has TWO switches. One on the side and another on the bottom. Are two switches better than one? You decide.
The G20 can be turned on by either switch.
For the side switch; One quick press will activate. Each additional press will advance from low to turbo. To access strobe…double-click in any mode. For SOS…double-click a second time. One click returns to the previous (constant) mode. To turn off, press and HOLD the switch.
Turbo may be accessed "on demand". From OFF, press and HOLD the switch. Bear in mind though, this will only give you a "burst" of turbo. In other words it doesn't "lock on" in turbo unless its accessed by cycling through the other modes. So doing it this way will only activate it for as long as your finger is holding the button. Release the button and it's off once again.
One more thing about turbo. When you access it through cycling, it's timed… so once you land on it, it stays constant for 1 minute, then lowers in output. Naturally if you want to return to it, just cycle through again.
When the light is turned on via the side switch, the memory feature will recall the last mode used once it's turned off.
For the tail switch; Press the button once. Low will be first. Each additional press will advance to the next mode. Strobe and SOS are available from this button as well. Press and HOLD to turn off.
There is NO memory when using the tail button. If you turn it off in medium, high or turbo, then turn it on again, it will be back to low.
The tail-switch is most useful for accessing low at any time. And in case you're wondering, as long as you've used the side-switch at some point, memory will ALWAYS remember where you were the last time the side-switch was used…even if the tail-switch is used afterwards.
And just like with the other switch, turbo is available in a "burst" by pressing and holding the button.
Charge It! 
In case you've forgotten, the Klarus G20 has an internal charging circuit. Just plug the micro USB cable into the port, located on the opposite side of the side-switch. Viola, the battery is charging…and you'll know it, because the little indicator will be red. Disconnect the plug when it turns green.
Battery Voltage Indicator
Each time the G20 is turned on, the little indicator in the center of the side-switch lights up. Green means the battery is 70-100% full. Orange; 30-70%, and red; less than 30%. If it's 10% or less, it'll be RED and flashing at the same time.
Lock-out Mode
To prevent accidental activation in a pocket or such, hold BOTH switches at the same time for a few seconds. The light will respond by flashing three times. It's now locked. To unlock, click either switch THREE TIMES FAST. You'll be signaled that it's unlocked.
Time to See the Beam
Click on each one for a full-size image. 
The Bottom Line

The Klarus G20 is a reasonably small, but very bright flashlight. I like the two-switch design and the fact that "memory" follows the main switch even as the tail-switch is used.
The wide flooding beam is very nice, and the tint a pleasant white. It definitely doesn't have the throwing beam that many lights offer, but if you're like me and a few of those, the the G20 is a good alternative. If you like using flashlights as candles and enjoy the "ceiling bounce" effect, then I think you'll be very happy with it.
GearBest supplied the Klarus G20 for review, and if you like the look of it I encourage you to visit their site for a possible purchase.
Alternatively, you can get it on Amazon by clicking here!
Questions or comments? Please let me know.