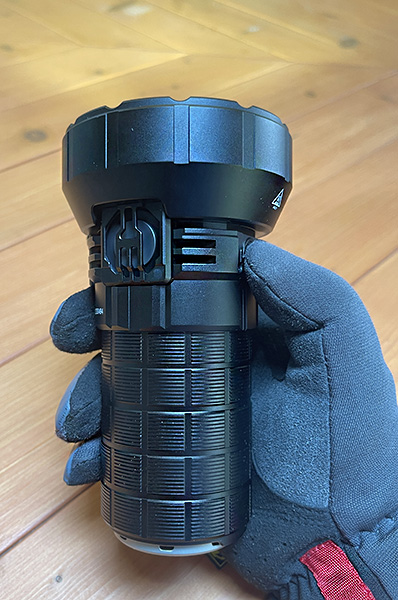 REVIEW – Have you ever noticed how some companies seem to excel making certain products—even if the general public has never herd of them? Case in point: Imalent. Ima-who? Exactly. Imalent makes flashlights—really bright flashlights. In the flashlight world (is there one?), Imalent is one of the big dogs. They make all kinds of flashlights, from small tactical to gun rail to massive-sized in all price ranges. 
Imalent has come out with a smaller version of their popular MS12 flashlight—the MS12 Mini. Actually, it's not really "mini". It's smallish and a bit squat-looking. This is not your Dad's Maglite. 

What is it?
The Imalent MS12 Mini is a "small", handheld LED flashlight with some serious firepower. The traditional large 4 D-cell Maglite has a direct beam under 200 lumens. A 100-watt lightbulb has about 1,600 lumens (but is spread out across a room). The MS12 Mini can go up to 68,000 lumens. 68,000 lumens. This will cast a beam up to 1,130 yards—over 10 football fields away.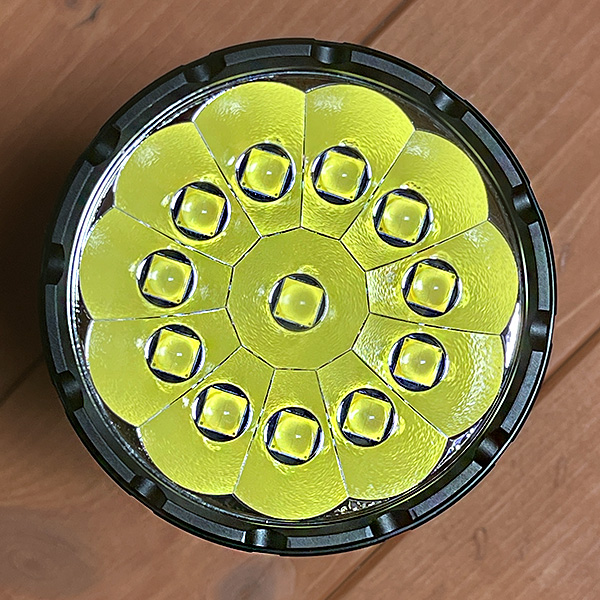 The lens used in the Imalent MS12 Mini LED Flashlight is 12 CREE XHP70.2 bulbs arrayed in a circle inside a sculpted reflector. Cree is known for its quality LED bulbs. LEDs are much brighter and more energy-efficient than incandescent bulbs. They also don't generate as much heat—even though the MS12 Mini can get plenty hot!
The MS12 Mini has 5 settings of brightness: Low (1500 lumens), Middle Low (3000 lumens), Middle I (5000 lumens), Middle II (13000 lumens), High (25000 Lumens), and finally Turbo (68000 lumens). Note that the brighter the light, the shorter the battery life—sometimes much shorter. More on that later in this review.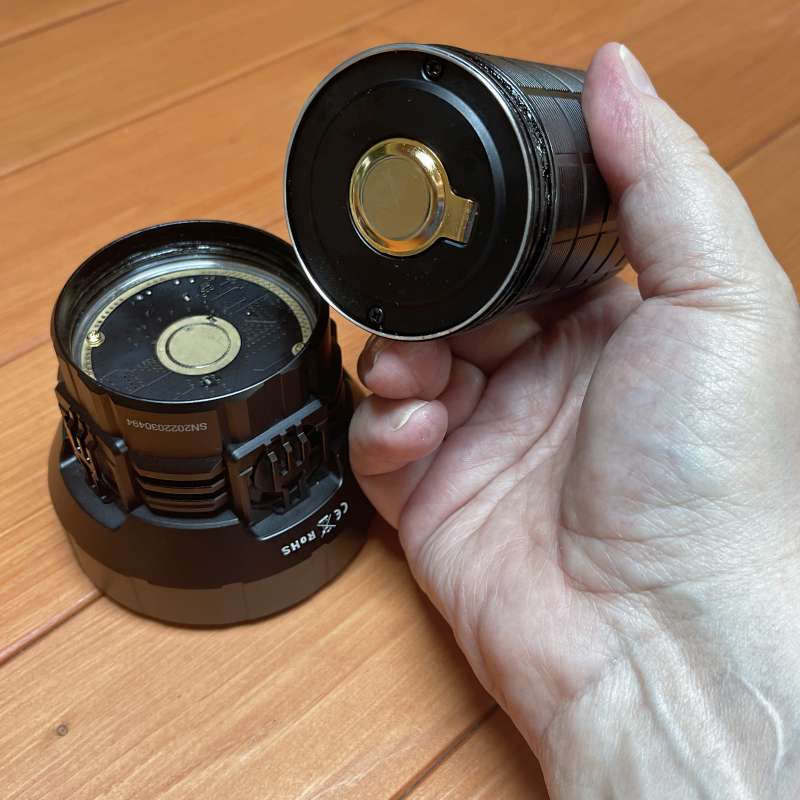 There are 4 li-ion built-in batteries that take about 2 hours to fully charge. They are replaceable if necessary.

Specs
Weight: 1.757 lbs.
12 CREE LEDs
(Up to) 65,000 lumens
(Up to) 4 hours run time
Light distance: 1,130 yards (.65 mile)
5 brightness modes + Turbo mode
IP58 waterproof rating

Design and features
Firstly, the Imalent MS12 Mini is a flashlight. That's pretty much it. However, The MS12 Mini is one of the brightest flashlights you can buy. There are brighter flashlights, but after you experience 68,000 lumens, you may ask yourself, "How bright do you need a flashlight to be?"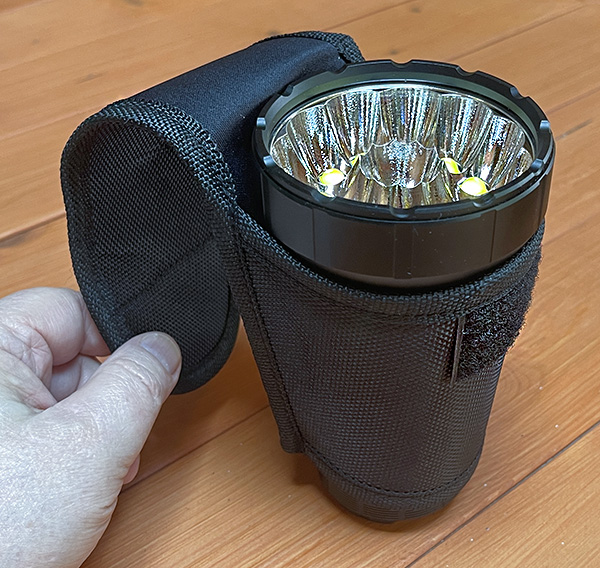 The MS12 Mini is aluminum with a glass lens. It weighs over 1.5 lbs with batteries, so you don't want to carry it for too long. It comes with a holster that can be attached to a belt or backpack strap. Note that its waterproof rating is only IP56. It can withstand some dust and water coming from all directions (like rain), but I wouldn't want to use it in a hot, humid environment for many days. Note that the manual states IP56, but the website states IPX68 (submersible). I don't know which is correct, but I wouldn't risk it on a $400 flashlight.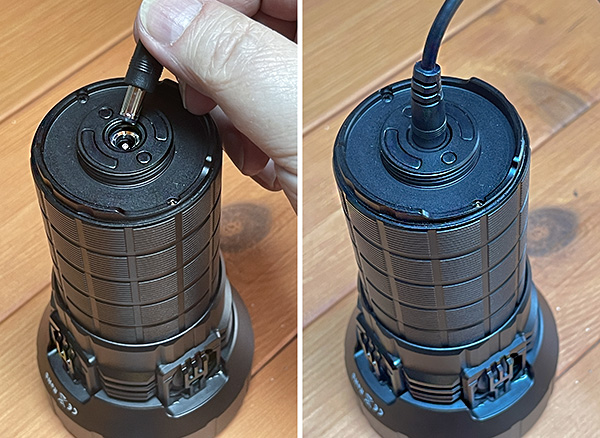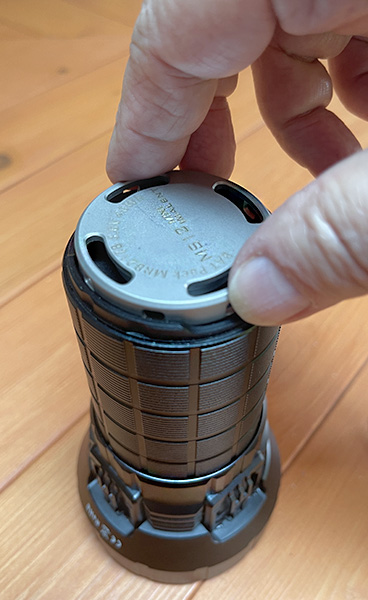 Besides the holster, a wrist lanyard, a couple of replacement "O" rings, and a charging plug are the included accessories. Everything is packed in a nice box with foam inserts protecting the MS12 Mini. It should, considering how expensive it is.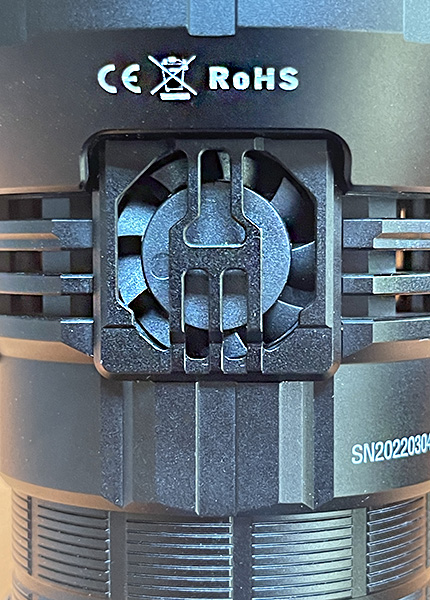 The Imalent MS12 Mini LED Flashlight has three fans to keep it cool. These fans kick in at 5,000 lumens. The fans make a bit of noise when on. Even with the fans on, the MS12 Mini can get quite hot (at 68,000 lumens)—to the point that I recommend wearing gloves if you plan on going that bright. Also, when the MS12 Mini is turned off, the fans immediately stop, no matter how hot the flashlight may get. So the fans are mode—not temperature—controlled.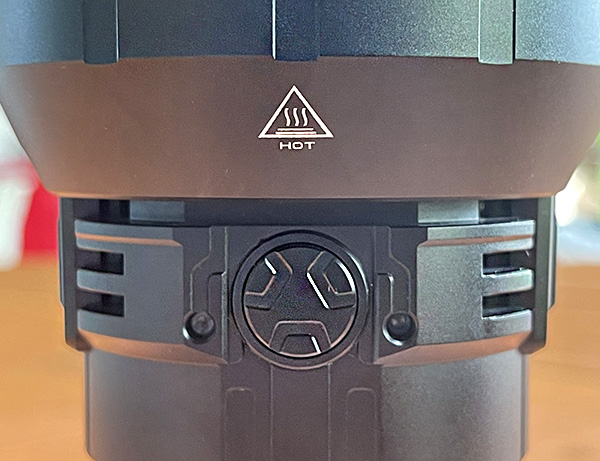 The on button is almost invisible—even in a well-lit room. In the dark, it's even worse. Other than a small, white triangle pointing to the button, there are no bumps you can feel. The button is flush with the MS12 Mini's body. If you need the light quickly in an emergency, you might be fumbling around trying to find the "ON" switch. It's an annoying design quirk.
Also (slightly) annoying is switching through the brightness levels. In order to switch between the brightness levels, you need to press and hold the on button stopping at the level you want. Unfortunately, there is no visual indicator to let you know what lumens setting you've chosen. So you hold the ON button and try to remember which of the five choices is which setting. You also cannot work backward. However, a quick triple-click will return to the Low level.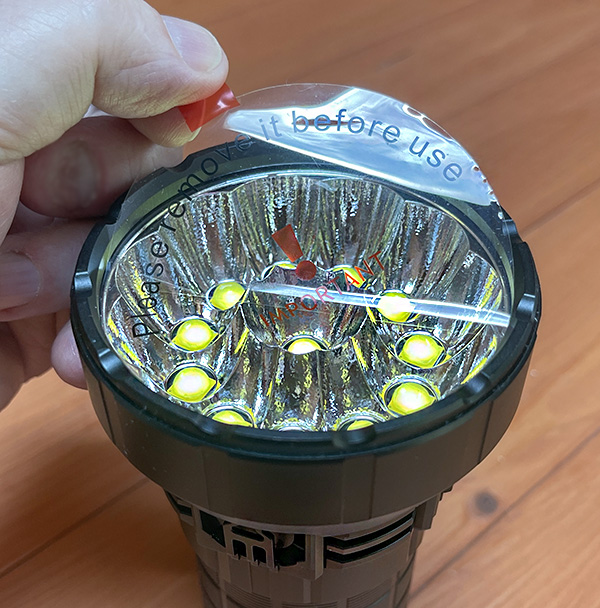 Note that Low and Middle Low settings (no fans) are plenty bright for most uses.
The Imalent MS12 Mini LED Flashlight's Turbo setting can only be attained by quickly pressing the ON button twice. Turbo can be activated no matter what other mode is on at the time. Press two more times while in Turbo mode, and the MS12 Mini emits an ultra-bright flashing light. If you are sensitive to flashing lights, I recommend not doing this.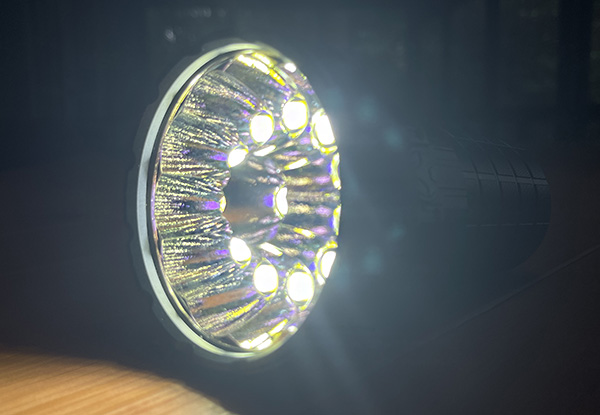 What's cool is that the MS12 Mini "remembers" its last setting. In other words, if you had the brightness set at Middle I (5000 lumens) when you last switched off the flashlight, that's where it would come back on. As a safety measure, this will not work with the Turbo (68,000 lumens) setting.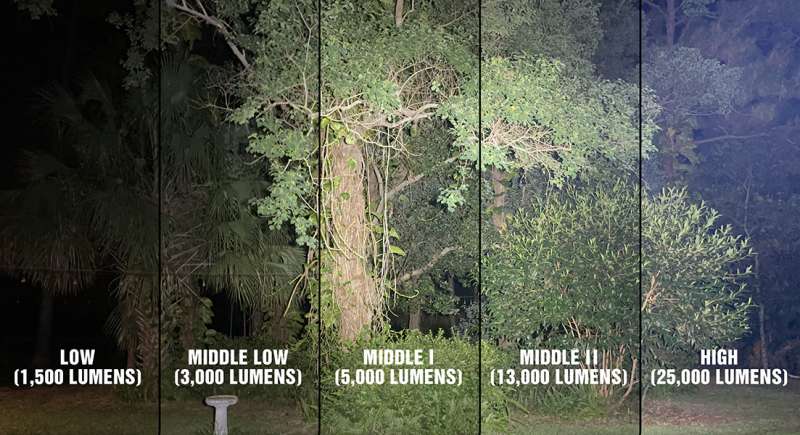 Different levels of brightness affect battery life (obviously). Times vary from 4 hours in Low mode to 48 minutes in Middle II mode (13000 lumens). Note that High runs for 3 minutes before cutting off at Middle II. Turbo (68000 lumens) only works for 45 seconds before reverting to Middle II mode.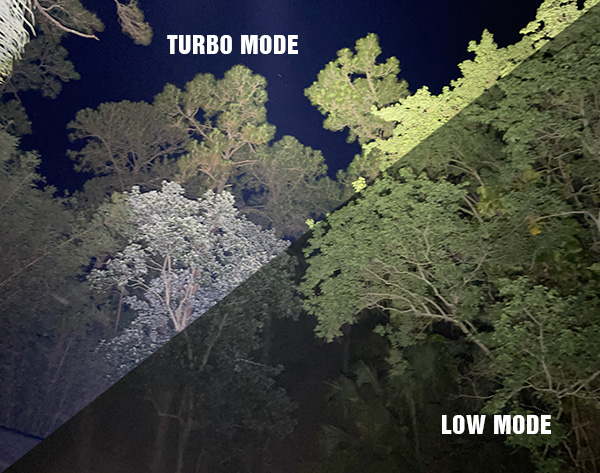 You can see the difference between Low (1500 Lumens) and Turbo mode in the video below. Even the video can't do justice to the brightness because the camera wants to correct itself to compensate for the light.
There are two things to note about Turbo mode: It only works for 45 seconds and it gets hot fast. I see Turbo mode for a short burst of needing a lot of light quickly. NEVER shine this light into anyone's face.

What I like
It has 5 brightness modes+Turbo
Extremely well made
Uses CREE LEDs
Turbo mode is insanely bright
What I'd change
Almost invisible ON button
Fan noise
Fans should be temp controlled
Expensive

Final Thoughts
If you live in suburbia, do you need the Imalent MS12 Mini LED flashlight? Of course not. But if you have land, go camping a lot, or are in security, this light can be a real-life saver—figuratively and literally.